Santa Fe is rapidly growing in popularity for its endless sunshine, stunning nearby golf courses, and blend of desert and mountain views. Though Santa Fe is in the desert, it sits at an elevation of 7,000 feet, which means that residents can enjoy all four seasons and the activities that come with them. Whether you love hiking and golfing in the sunshine or skiing and snowboarding down the slopes, Santa Fe has a place to do it. But with more than 10 neighborhoods to choose from, how can you know which is best? Aside from connecting with
an experienced realty team
, start your search by learning more about some of Santa Fe's best neighborhoods below.
South Capitol
South Capitol got its name for being south of the New Mexico State Capitol Building on Old Santa Fe Trail. The area is known for its beautiful, classic adobe-style homes that fit in perfectly with the surrounding terrain. Those shopping for Santa Fe homes for sale will also find a wide range of other styles in the neighborhood too. South Capitol is rising in popularity for its cozy suburban feel and boutique-style shops and restaurants.
Restaurant Martin
is a highly-rated American spot on Galisteo Street. South Capitol is a great choice for families or individuals who love the outdoors and want to have access to farmers' markets and a thriving arts scene. It's also home to some of the top schools in the county, including Wood Gormley Elementary and Santa Fe Prep.
Historic Eastside
Santa Fe real estate in the Historic Eastside offers residents a good mix of privacy at home and local events in the community. Historic Eastside is home to the
Santa Fe Plaza
, which serves as the epicenter of activity in the neighborhood. The Plaza puts on seasonal festivities, including beautiful Christmas lights and energetic New Year's celebrations. Free events and live music are also regularly hosted at the Plaza. The area offers perfect examples of northern New Mexico architecture, whether at the Palace of the Governors or the old cathedral. The Historic Eastside neighborhood also has a variety of cultural restaurants and boutique cafes. Canyon Road is the place to go for art galleries, or there are a number of trails and parks to keep the whole family active.
Las Campanas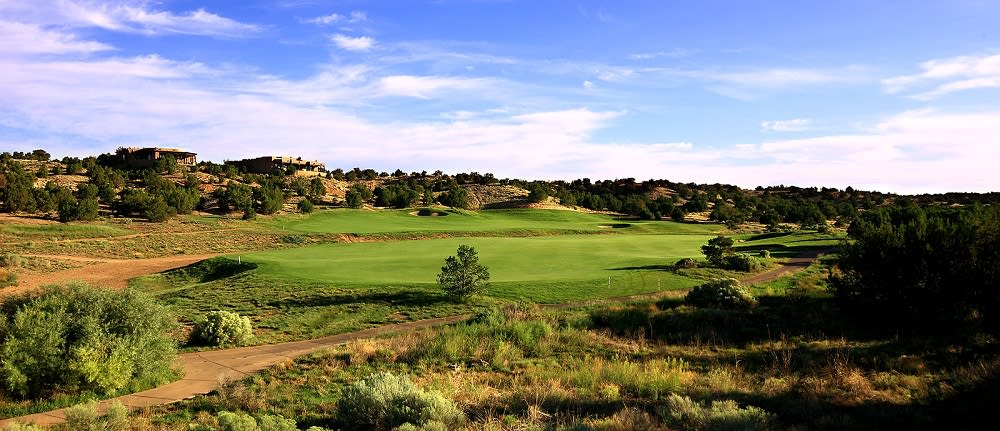 Photo Courtesy of TheClubatLasCampanas.com
Las Campanas is a beautiful gated community west of downtown Santa Fe. Rich in golf greens and gentle hills, Las Campanas places a big emphasis on health, fitness, and enjoying the natural Santa Fe scenery. The neighborhood spans 4,700 acres and was designed with the intent of providing residents with the utmost privacy. Santa Fe homes for sale in Las Campanas are varied and unique, keeping the neighborhood from having a cookie-cutter feel.
The Club at Las Campanas
is a key feature of the neighborhood, with two golf courses and an equestrian facility. A fitness center and spa are available to residents, as are a series of tennis courts. Las Campanas has 11 distinct neighborhoods to choose from, with The Pueblos being perfect for those who want the best mountain views and golf course access, and Ranch Estates being the top choice for horse owners.
Eldorado

Photo Courtesy of eldoradosf.org
Sitting south of downtown Santa Fe, Eldorado is built for outdoor enthusiasts, with its wide-open landscape and numerous trails. Residents who own Santa Fe real estate in Eldorado love the classic Territorial and Pueblo architecture that is the epitome of New Mexican style. Horse lovers will find themselves at home in Eldorado, where the Eldorado Stables gives locals access to more than 35 barns and 12 acres to explore. Restaurants in the area feature farm-to-table options, Latin American eateries, and a recently opened
French bistro
. Dog parks, nature trails, and community preserves come together to make Eldorado the ideal place for families who want to take advantage of Santa Fe's more than 300 days of sunshine per year.
Tesuque
Another neighborhood close to the Santa Fe Plaza is Tesuque just ten minutes to the north. In addition to having access to all that the Plaza has to offer, Tesuque is a small community that places a high value on privacy. Luxury Santa Fe homes for sale in adobe styles line the streets of Tesuque, set against the beautiful desert landscape. A community built around the arts calls Tesuque home and frequents the Shidoni Gallery in town. Local artisans and jewelry-makers often sell their wares at the
Tesuque Village Market
, one of the best places to shop in the neighborhood. In addition to crafts and gifts, locals will also find a general store, bakery, and restaurant at the market.
Tano Road
Tano Road is linked to Las Dos, La Tierra, and Aldea, all of which sits northeast of Las Campanas. Perfect for outdoors lover, Tano Road is close to several hiking spots, including the La Tierra Trails. With rural communities that wake up to breathtaking views of the Sangre de Cristo Mountains, Tano Road and its accompanying neighborhoods are perfect for those looking for a bit more privacy and seclusion. In addition to great hiking, they're also a short drive from
The Club at Las Campanas
, the
Santa Fe Opera
, and the
Marty Sanchez Golf Course
.
Santa Fe is a beautiful city to call home with a variety of neighborhoods that appeal to every type, whether you want to live closer to the hustle and bustle of downtown or further out toward the mountains. Finding a place to call home in the right neighborhood, however, can be challenging without the right real estate team. Ricky Allen and Cathy Griffith are a team with more than 30 years of experience, and their passion for Santa Fe is unmatched. They'll work diligently to help you find the best part of town for your family. If you want to explore what Santa Fe real estate has to offer,
get in touch with Ricky and Cathy
today.

*Header photo Courtesy of SantaFe.com