As the second oldest city in the country, Santa Fe, NM, boasts a vibrant cultural scene, gorgeous historical architecture, and captivating views of nearby mountains. In 2022, this fabulous capital city was
voted one of the world's best cities
, alongside acclaimed cities like Tokyo and Sydney. If you are considering buying or selling a home in Santa Fe but aren't sure about what's next in the Santa Fe real estate market, then read on for real estate market predictions for 2023.
1. Rapidly growing population
During the past ten years, Santa Fe experienced an astounding rapid increase in its
population by nearly 30%
. This capital city rose from a population of nearly 70,000 in 2010 to nearly 91,000 in 2022. This rapid upward growth trajectory coincided with the nationwide trend of many fleeing the major metropolitan areas for more expansive and open areas. Furthermore, many people are discovering the attractive appeal of this city, from the thriving arts and culture scene to the adobe-style architectural buildings. With a variety of outdoor activities that are likely to appease any nature enthusiast no matter the season, the population of Santa Fe is likely to maintain this upward trend in 2023.
2. Thriving economy
With a rapidly growing population, Santa Fe has seen considerable growth in its economy in recent years, as it continues to recover from the effects of the pandemic in 2020 and a massive
wildfire in mid-2022
. In particular, the city has seen strong growth in the construction industry, as well as ranking in the
top 25% for urban development
. If jobs continue to increase at the same pace as population growth, then it is likely that the city will see increasingly more gains from the economy over the next few years.
3. Increasing luxury housing costs
Population growth and a healthy economy are the perfect ingredients for a thriving Santa Fe real estate market. With median luxury housing costs of $695K, the housing costs in Santa Fe have been
steadily increasing
, and houses spend approximately forty days on the market, which is fewer days than they did two years ago. Furthermore, with low inventory, there is more demand for Santa Fe homes due to the city's population growth. With growing demand and steadily rising luxury housing costs, it is likely that the real estate market in Santa Fe will become more competitive as homes spend fewer days on the market and median home prices increase as more and more buyers capitalize on the value of a Santa Fe luxury home.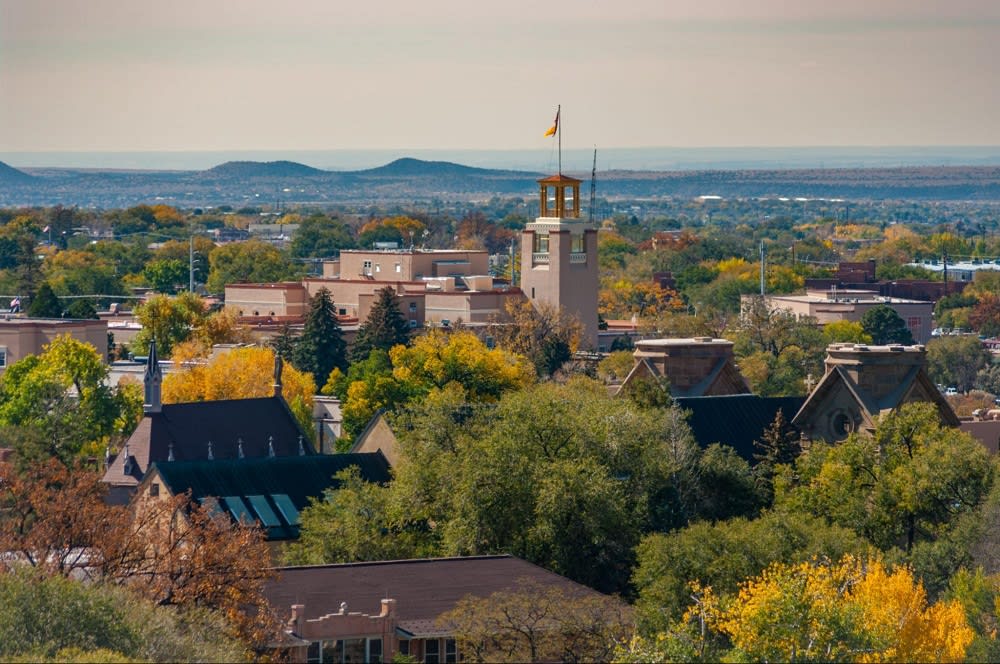 4. High value for Santa Fe luxury homes
One of the biggest trends in the Santa Fe luxury real estate market is that homebuyers can get more for their luxury Santa Fe homes for sale compared to places like California and New York. With a
20% luxury home value appreciation rate
, many buyers seek more expansive properties equipped with high-end amenities for a primary or secondary vacation home. For example, look at
this luxurious 12.5-acre home
complete with a chef's kitchen, state-of-the-art appliances, and a studio or office space on the second floor. This gorgeous home offers impressive views of the Sangre de Cristo mountains and is close to downtown Santa Fe. Consider also
this secluded farmhouse
offering a superb balance between modern and rustic designs. It includes a gorgeous garden with a tranquil pond, a secluded and well-manicured landscape, and incredible panoramic views. Santa Fe homes for sale offer world-class elegance and beauty in expansive surroundings.
5. One-of-a-kind luxury neighborhoods
Several decades ago, Santa Fe had only a few neighborhoods. Today, many upscale neighborhoods in this capital city offer a unique and unparalleled experience. Consider the
Historic Eastside
neighborhood located in the heart of downtown Santa Fe next to fabulous boutiques, elegant restaurants, and historical museums while still offering highly-valued privacy for its residents. Consider also
South Capitol
, a neighborhood close to the Capitol building with an eclectic assortment of architectural buildings, increasing prices of luxury homes, and an ideal location for various entertainment venues. The rustically luxurious
Tesuque
neighborhood also offers magnificent estates with high-quality amenities and gorgeous views of the Santa Fe landscape. No matter what lifestyle you choose, there is a neighborhood that is perfect for you in Santa Fe. Contact your realtor in Santa Fe to help you find the perfect luxury neighborhood.
6. Strong rental real estate market
There are many reasons why people are choosing to invest in rental real estate in Santa Fe. Santa Fe is very desirable and in high demand, attracting many new people yearly. Furthermore, there are many recreational activities, from exploring downtown Santa Fe and visiting the
Oldest House
to hiking and admiring the gorgeous landscape. Santa Fe also has a thriving art and culture scene with 250 art galleries and museums. It is a small city that offers exciting outdoor adventures and is steps away from the variety of different architectural Santa Fe homes for sale. With many of these highly prized attributes, many will continue to invest in Santa Fe real estate homes in 2023 and beyond.
7. Working with a realtor in Santa Fe can help
Investing in any real estate market can often be an overwhelming experience. That is why working with an experienced
Santa Fe realtor
can be an incredible asset. Your real estate agent can effectively advise you on the current trends in the real estate market. As the market becomes even more competitive in 2023, it is valuable to work alongside an experienced team of experts who can guide you toward finding your luxurious home for sale in Santa Fe.
Whether you are looking to purchase a primary residence or a vacation home in beautiful surroundings, working with an experienced real estate team such as Ricky and Cathy can help. Your real estate agent can guide you in finding your ideal luxurious home in Santa Fe, New Mexico.