When you list your Santa Fe property for sale, you want to get the best price for it and avoid it stagnating on the market. Thankfully, there are services that can help you get your ideal outcome. Hiring a highly-rated local stager can give you the competitive edge you need over other homes for sale in Santa Fe. Professional staging highlights the property's best features and improves its less desirable ones. Staging makes the home feel move-in ready and attractive to potential buyers, leading to increased offers.

Here are the ins and outs to guide you through the staging process.

Increase the selling price and sell it faster
When homebuyers walk through your property and are able to visualize their lives in the space — seeing that the home is well-cared for and move-in ready — they'll want to act quickly and offer a high bid, so they don't lose the opportunity. Surveys and research have shown that a vast majority (85%) of staged homes sold for between 6-25% more than comparable unstaged homes. Furthermore, houses staged before listing were, on average, on the market for 23 days. Compare that to the unstaged houses' average of 143 days before sale! Staging is a powerful service that will get you a speedy sale and a high return on investment.
Highlight the home's features
Everything in a professionally-staged Santa Fe house is designed to show off the property's best features and improve its less-desirable ones. Areas are centered around or face a wonderful view, a fireplace, or other beautiful features. Your stager will rearrange furniture to create conversational areas, allowing homebuyers to visualize family and friends enjoying the space.

Furniture may be removed to make the space feel larger and will be spaced apart to create multiple walkways, giving the room a light and airy feel. Staging prioritizes natural light, creating rooms that are warm and filled with natural energy. A professionally staged home skillfully uses decor — which may be sourced nearby to emphasize local character — to make your Santa Fe home feel fresh, modern, and just what buyers are looking for.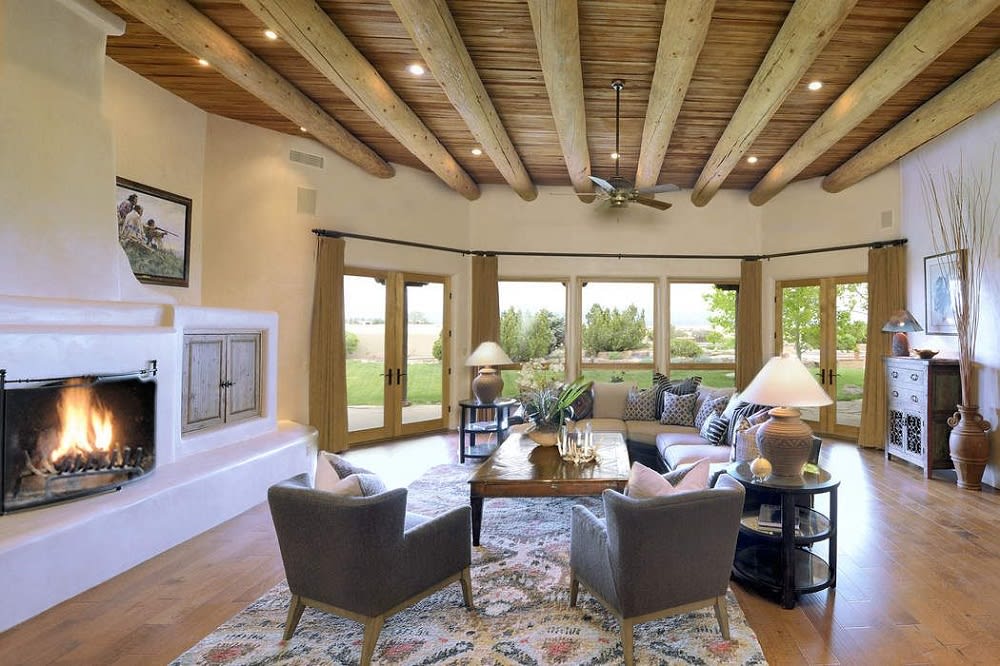 Depersonalize
You've lived in your home for many years, and it reflects everything you love. From the pictures of your loved ones on the walls, memorabilia from your travels, and whatever tchotchkes you collect, your home reflects you. But when it's time to sell your Santa Fe real estate, you need to encourage potential buyers to see your house as their home - all of your personal items, photographs, and collections should be out of sight.

Depersonalizing also includes removing signs of your pets or children. Tuck away your pet's beds and all toys; give kid or pet areas a good cleaning and ensure scents are at a minimum. Don't lose an opportunity because a buyer with cat allergies suffers through a tour of your otherwise perfect home. Depersonalizing and cleaning will allow buyers to see and focus on their favorite things in the home instead of getting distracted by things that may turn them off.
Move-in ready
The market for Santa Fe, NM homes for sale is competitive. To give your property every edge you can, make sure your house looks move-in ready to potential buyers - a pristine home will move up on their list. Remember, buyers are under pressure to pack up and have an internal deadline to move into their new home. The less they have to do to a property before they move in, the faster — and easier — the whole process is for them. Give yourself a competitive edge by identifying and performing all needed repairs before you list the property.

As a final but crucial touch, clean out your storage areas, from kitchen cabinets to the garage and even outdoor spaces. Leaving only the things you need, aim to have storage areas 30% full. Buyers can then accurately gauge how much storage the home has, and empty closets will also make the space feel bigger.
Neutral, not boring
Color adds excitement to Santa Fe properties for sale, but sometimes it can be too much. At the same time, homes that are too monochrome feel boring, stale, and lifeless. Professional staging will help you strike the right balance with your color palette. To make it easy on potential buyers, make sure your surfaces are neutral. If you have any rooms with an accent wall or wallpaper, it's best to re-paint those walls first. You may love your tropicalia wallpaper, but for a buyer who doesn't agree, all they see is a room that needs work before move-in.

The same is true for tile. If you've got outdated tile or adventurous patterns, consider replacing them. Intricate patterns can work, but only if the tile is in light, neutral colors. Give your professional stager a blank slate to work with and let them add color with furniture, art, and other decor. These pops of color will elevate your home's neutral look and will be easy to swap out by your future buyer.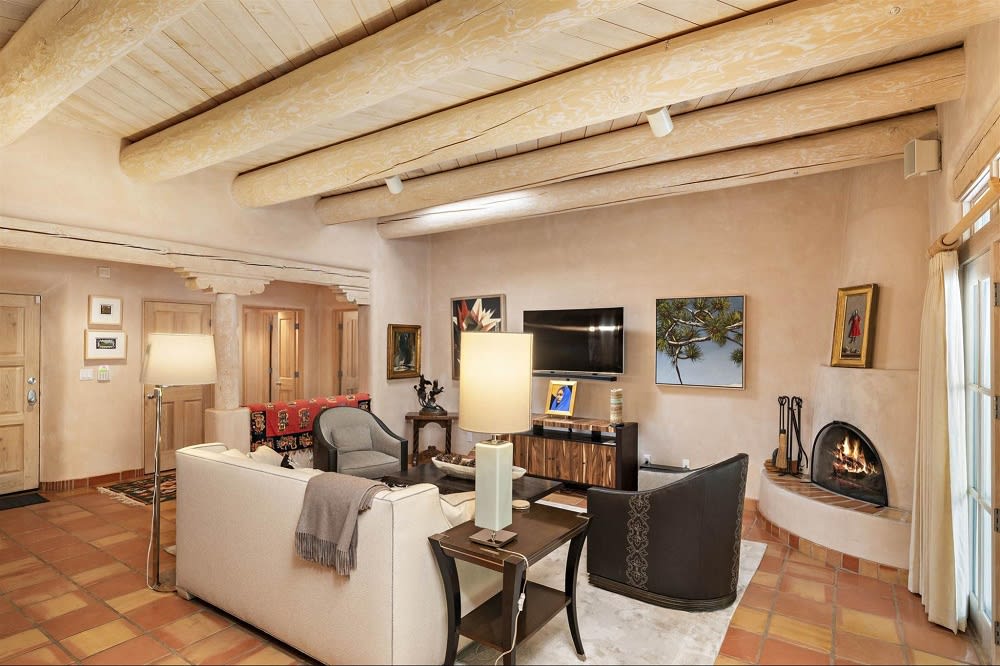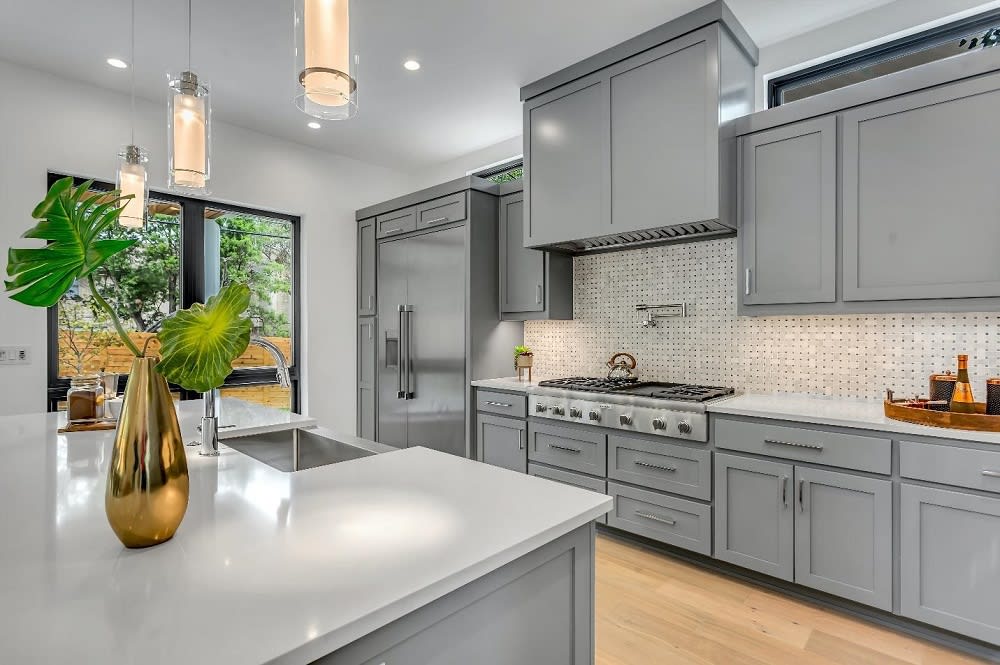 DIY staging
Americans have a do-it-yourself culture, and there's a lot that you can DIY when it comes to staging your Santa Fe real estate. It doesn't cost anything for you to depersonalize and declutter the property - in fact, it's a task that's mostly up to you, even with a stager. A week is enough for clearing out cupboards, closets, and drawers. Professional stagers can help you with the bigger projects, like swapping out any large furniture. They'll also purchase new decor and rearrange existing furnishings to just a few harmonious pieces per room. Their expertise will give your property that extra edge towards selling your home more quickly and for top dollar.
The realtors on Ricky Allen & Cathy Griffith's team have years of experience helping homeowners and investors prepare their Santa Fe homes for sale and negotiate the best selling price. These Santa Fe pros would be happy to guide you through the staging process!