One of the great delights of visiting Santa Fe, New Mexico is soaking up its historic architecture, which can be found in Santa Fe Plaza and all throughout this charming city of about 84,000.

They call Santa Fe "The City Different," and you can see why when you walk or drive around, taking in the blend of Native American, Spanish, and revival architecture. New Mexico's capital city is located at an altitude of 7,100 feet in the foothills of the soaring Sangre de Cristo Mountains.

The common denominator that ties the styles together and makes "The City Different" is its number of adobe buildings, which include residential Santa Fe homes for sale. With colorful doors, stunning murals, and vibrant accents, it's easy to spot this unique style from afar. In fact, Tourism Santa Fe says no other city in the United States has as many adobe buildings. Adobe bricks are made from air-dried earth and straw mixed together.

There's even a name for the modern blend of styles: Pueblo Revival style, which is also called Santa Fe Style. This regional style gets its inspiration from traditional Pueblo architecture and the many Spanish missions that dotted New Mexico centuries ago, which helped shape the Southwest's way of life.

Traditional Pueblo architecture certainly worked for earlier inhabitants of the area, and it is what helps make Santa Fe such a thriving, lively city that is determined to preserve and celebrate its rich cultural history.

Among Santa Fe's most notable buildings are the Palace of the Governors, which opens onto the Plaza and the San Miguel Chapel a few blocks away – both date to the 1600s. There is a structure simply known as "The Oldest House," which dates to the mid-1700s and is now a museum. Many tourists are familiar with the La Fonda on the Plaza Hotel.

Built in 1997, The Georgia O'Keeffe Museum celebrates the late artist and photographer and is a stunning example of Pueblo Revival architecture. Another landmark is the St. Francis Cathedral, built in the Gothic Revival style.

Santa Fe isn't just for tourists. People are moving to this city some 65 miles northwest of Albuquerque because of its outstanding quality of life - Santa Fe has been called one of the best small cities in America because of all it has to offer. Even though there is a thriving tourist industry, Santa Fe is also renowned for its slower-paced lifestyle, as well as its great weather and stunning natural beauty.

Although housing prices are going up throughout the U.S., Santa Fe remains relatively affordable — especially when compared to many other Western cities, where prices have gone through the roof. If you are interested in buying Santa Fe real estate, the first step is to hire an experienced real estate agent. They'll know every neighborhood and can help you buy a dream home built in one of the city's unique architectural styles.

One reason why Santa Fe has been able to retain its historic look and delightful atmosphere is because local laws require that all new construction in the city's historic districts must blend in with the pre-existing structures.

Here's a look at some of Santa Fe's architectural styles: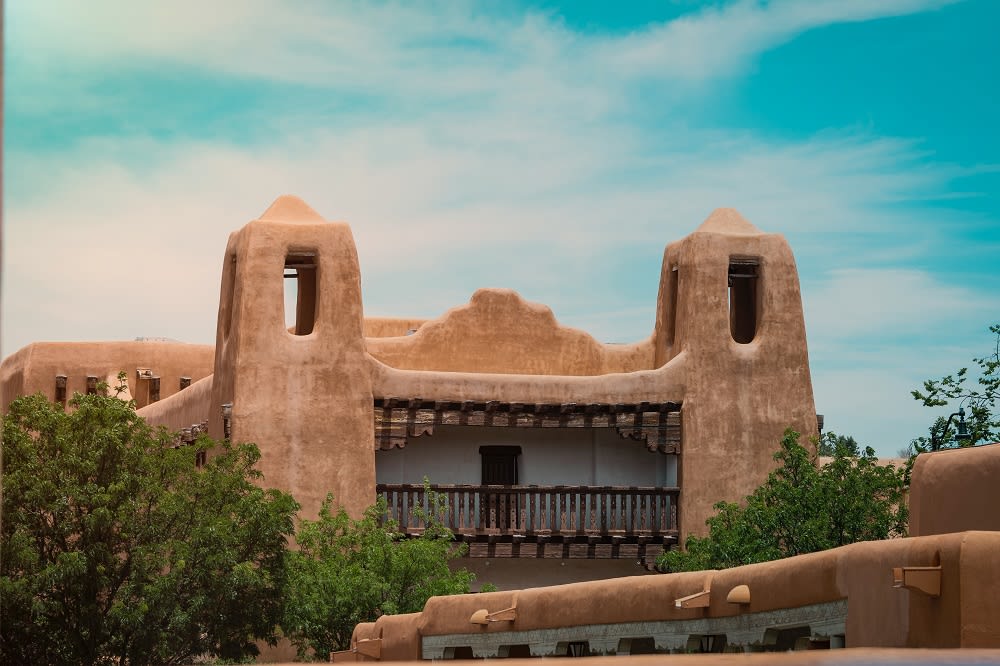 Pueblo Style
Pueblo Style architecture in Santa Fe evolved from early Native American dwellings - massive communal houses that could accommodate thousands of people. They sometimes had hundreds of rooms and could stand four or five stories high. When the Spanish arrived, they called them "pueblos," which means "villages." The Spanish advanced the style by making dwellings out of adobe bricks mixed from mud and straw.
Territorial Style
As the Santa Fe Trail and railroads arrived, more people were able to move to the area. Historians also note that as new building materials reached Santa Fe, homes with traditional European influences were built, featuring pitched roofs and front doors. While it was known as Greek Revival then, the style today is called Territorial Style — a nod to the days before The Enchanted State became the 47th state and was only a U.S. territory.
Pueblo and Territorial Revival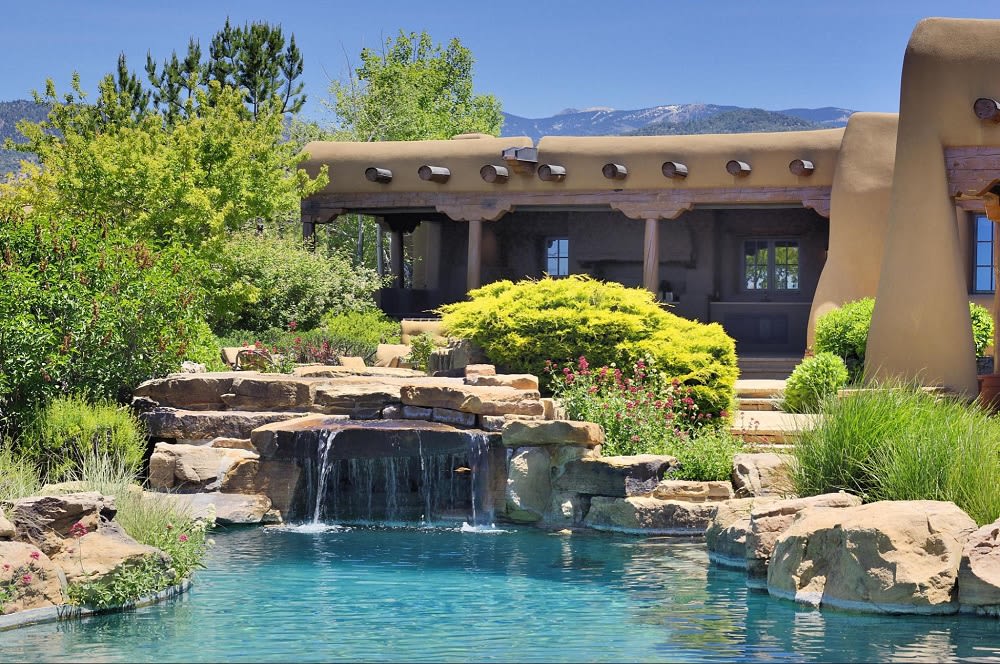 According to Tourism Santa Fe, the Pueblo Revival Style became popular in 1912 — the year New Mexico became a state — when a collective of artists and archaeologists pushed for the city to retain its distinctive look by embracing styles based on those used by native peoples.

From that effort came the Santa Fe Style, with its familiar adobe walls contoured into smooth shapes, flat roofs, and distinctive wood elements such as beams and massive doors. Santa Fe Style is also known as Pueblo Style or Spanish Pueblo Style.
Northern New Mexico Style
With steeply pitched metal roofs, North New Mexico Style homes have a distinctive look all their own. This sleek style is a signature of the area and blends the Pueblo and Territorial Style sensibilities with narrow, metal roofs that are capable of shedding snowfall and require less roof maintenance.
Houses in Santa Fe
Homes for sale in Santa Fe come in the various architectural styles mentioned above, and some even combine elements of more than one style. If you want a home that is built in the true Pueblo Revival style, look for houses with adobe walls with rounded corners, flat roofs, and wood beams. But no matter their architectural bones, houses for sale in Santa Fe, New Mexico exude warmth and coziness.

Besides Santa Fe's many different architectural styles, the city also has different neighborhoods with their own distinctive elements. Some even have crooked, unpaved streets that harken back to a hardier time.

Among Santa Fe's neighborhoods are Downtown, South Capitol, the Eastside, the Guadalupe District, The Railyard, South Capitol, and Midtown. Each area boasts its own unique feel, such as South Capitol's blend of Craftsman bungalows, Pueblo, Northern New Mexico Style homes, and The Railyard's historic flair for the artistic.There are also several neighborhoods on the outskirts of Santa Fe and a few that continue several miles out of town.

The best way to get the true flavor of the city's different neighborhoods — and understand what kinds of property are for sale in Santa Fe — is to do some research online and then walk around the neighborhoods that interest you. Scouting the area will also give you a sense of where the good dining, shopping, and entertainment options are.

For 100% satisfaction when you decide to buy or sell Santa Fe real estate in 2021, contact the Rick & Cathy Team for assistance.