It's desirable
One of the main reasons to invest in Santa Fe real estate is because of how desirable and in-demand it is to live in the area. When choosing where to invest, this is often the first thing that comes to mind because it's truly such an important factor in terms of how much money you can get out of your investment.
Just how many people are interested in a place you're considering investing your money into? In terms of Santa Fe's market, this city continues to attract many new people each year, which means its desirability just keeps going up. With abundant nature, an amazing arts scene, and so much else to love, many people love this city. Buying any property in Santa Fe is going to be a good investment because of what the city has to offer and how many people want to live here. Therefore, the value of the property you invest in is likely to go up.
As the capital city of New Mexico, this is another reason why people are drawn to living here. According to
Forbes
, in 2021 alone, Santa Fe properties appreciated in value by around 20%, which is extremely high compared to most other places across the country. In terms of real estate trends, Santa Fe has been trending upward for multiple years and is predicted to continue to do so according to
Norada reports
. Therefore, if you are looking for a place to invest, Santa Fe is one of the best places in terms of what people are looking for, which is one of the top aspects to consider when choosing a place to invest in.
Its location
The actual physical location of Santa Fe is another reason why investing in real estate here is worthwhile. As the capital city of New Mexico, it's attractive in itself. Many love visiting, and many people dream of living here, too.

Santa Fe is a small city, but it's located near other major urban areas, which definitely contribute to its value. Some major spots close by include Albuquerque, Los Alamos, Colorado Springs, and El Paso. This makes Santa Fe a great choice for commuters and people who want to spend time exploring all that this fabulous area has to offer.
Its weather
Santa Fe is known for its mild climate; here, you won't have to worry about shoveling snow, sudden rainstorms, or major dips in temperature. You may not think that the weather has much to do with investing and property value, but it can actually be an important factor in terms of maintenance.

Santa Fe has four seasons, but all of them are known for being mild, which includes a very low amount of rain each year. You won't have to worry about weather-related damage and repairs to keep up with. Maintenance is always going to be extremely important when you have an investment property, so it's not something that should be overlooked.

It's important to make sure that your property is always up-to-date and to always keep on top of all of those small repairs to keep renters happy and more eager to rent from you or continue on as a tenant. The amazing weather and climate combined with the desirability and location make Santa Fe a truly unique place to invest in.
Its unique
Santa Fe Opera, Credit: Santa Fe Reporter
Santa Fe is truly a unique place in which to invest. People love renting and living in Santa Fe for so many reasons, even beyond its location and weather. Those who visit and live in this city love its atmosphere, rich history, and everything else it has to offer. In terms of the arts and entertainment, it can't be beaten.
With over 250 different art galleries in the city alone, Santa Fe has more than anywhere else in the country. Another major attraction is the
Santa Fe Opera
, which any music lover or just anyone who loves seeing live performances will love. There are also plenty of festivals hosted here throughout the year, as well as annual events that residents and visitors alike enjoy and look forward to.
Another thing that makes Santa Fe one-of-a-kind? A fantastic amount of green space and nature. People love to live in a locale where they're able to do almost anything they could ever dream of in terms of entertainment and leisure—all against a gorgeous scenic background. Santa Fe is both an exciting place to live in and a peaceful one, which plays into its high demand.
It's luxurious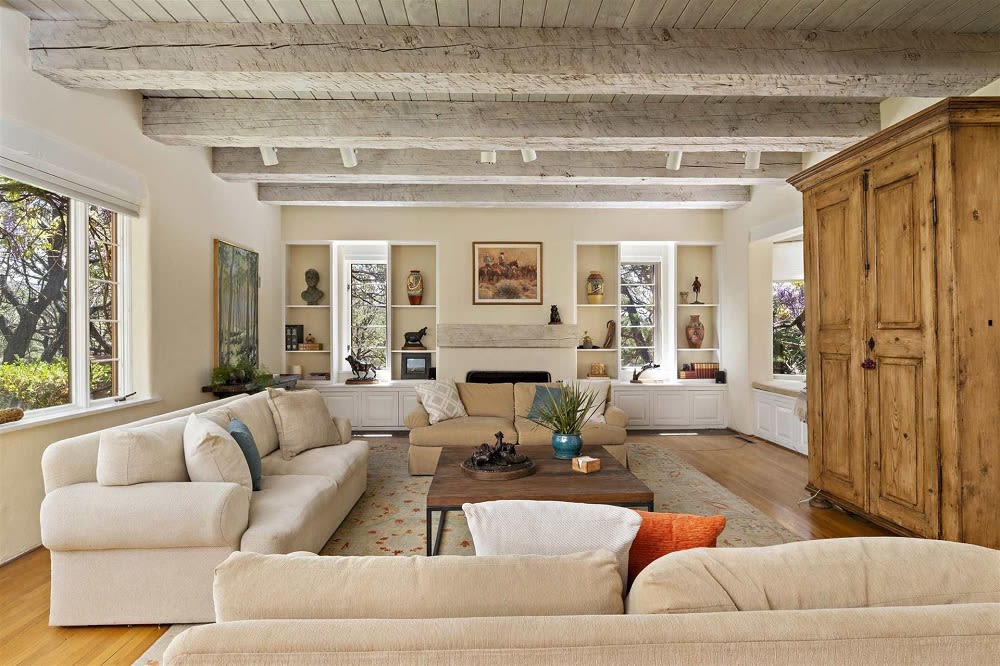 Santa Fe luxury homes are extremely popular, as the city attracts many people who are interested in upscale living. The entertainment opportunities, natural beauty, rich history, and everything else that draws people to the area really contribute to these magnificent homes.
You will likely get more return on your investment—especially over time—and as the market value of your property increases. Due to its attractiveness and demand, there are a lot of these kinds of properties available to buy. In terms of style and architecture, you can find some truly beautiful and one-of-a-kind places to invest in. Santa Fe is especially known for its stunning Pueblo-style residences with many luxury homes on the market, including the one pictured above being sold by Ricky Allen & Cathy Griffith Real Estate. This type of luxurious, expensive home is one that many are always looking for in this city, and purchasing one of these unique and large homes can really pay off in terms of investing.
Ready to invest?
Now that you know some of the reasons why investing in Santa Fe is worth it, you may be ready to take the next step. If you're looking for Santa Fe real estate, get in touch with
Santa Fe realtors
Ricky Allen & Cathy Griffith Real Estate. They can help you find your perfect Santa Fe investment property.