Set in the foothills of the Sangre de Cristo, Santa Fe is known for a lot of things — the signature Pueblo architecture, its thriving art scene, and the gorgeous views. Sante Fe condos have become incredibly popular vacation homes for people looking to escape busy California or New York life, and in the last two years, Santa Fe has seen a huge influx of residents.


Santa Fe homes for sale are still highly desired, and bring new visitors each year looking for their own little piece of the desert. If you're thinking about calling Santa Fe home, keep reading. These are the things you should know before you uproot your life and move to the mountains!
Beautiful weather
The weather in Santa Fe
may not quite be what you're expecting if you're from out of town. Most people looking at Santa Fe homes for sale for the first time expect hot desert weather and zero snow, but that's not true.
Because of the elevation, Santa Fe does get hot, but not brutally so — the average high in the hot season rarely hits 85 degrees. Winters are a little colder, with the average temperatures in December and January being just below freezing. Santa Fe condos and homes really give residents a chance to enjoy the range of seasons.
Lots to do outside
Because of the beautiful, not-too-hot, not-too-cold weather, residents can enjoy spending a lot of time outdoors. This is great because Santa Fe condos have easy access to so much natural desert beauty.


For hiking, be sure to try
Picacho Peak
, a 3.8-mile out-and-back with breathtaking views of the city sprawling below. If you want something longer,
Atalaya
is a 6.2-mile out-and-back with some intense elevation, which may be difficult for non-residents still acclimating to the altitude.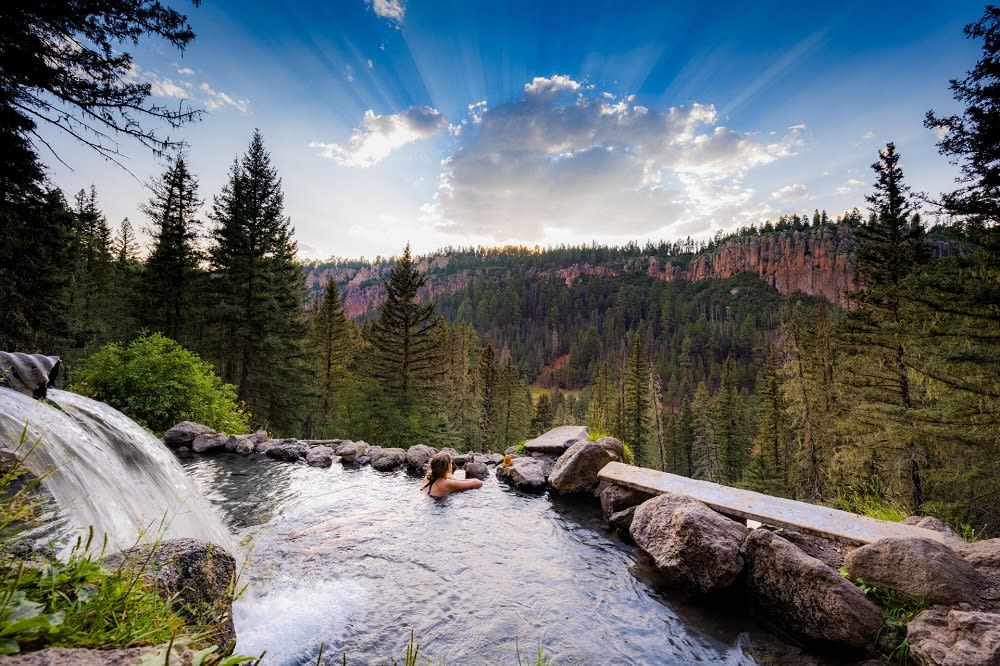 Within just a short drive, you can also experience the signature New Mexico hot springs —
San Antonio Hot Springs
and
Spence Hot Springs
— just a short drive from most Santa Fe homes for sale. They offer incredible natural soaking and relaxation.
Skiing is right around the corner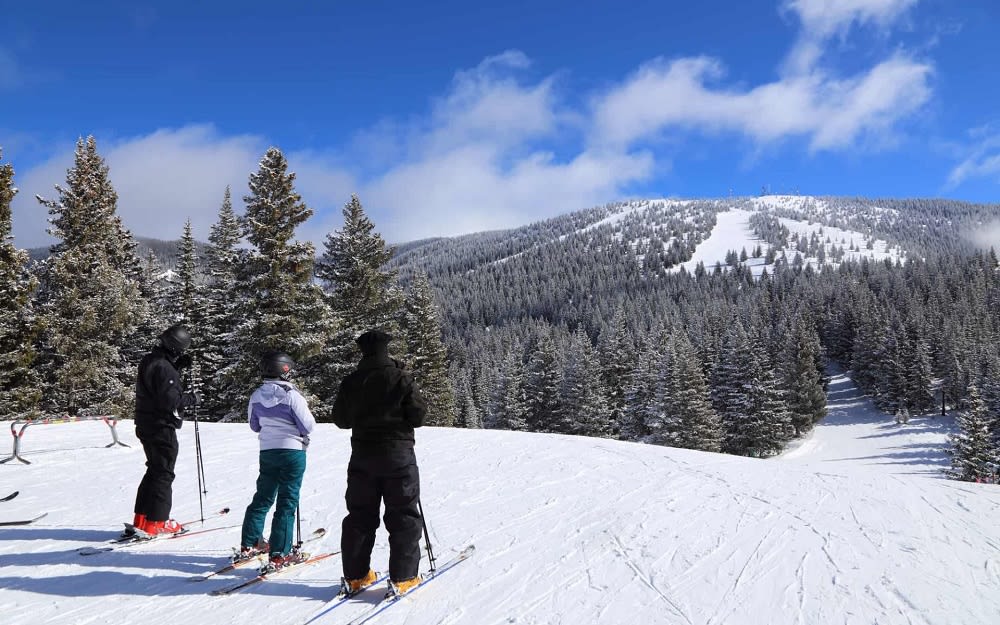 Fun fact: Santa Fe condos actually sit at a higher elevation than most Denver homes! Santa Fe has an elevation of 7,199 feet, while Denver sits at just 5,279 feet. Because of how close the mountains are and its high elevation, Santa Fe is a highly desired ski town.
Ski Santa Fe
has some of the highest ski areas in the entire country, and skiing here is a genuinely beautiful experience. You get incredible views of the surrounding desert and city. They have seven lifts and 86 trails, so no matter what experience you have on the slopes, you can find something that suits you.
Taos is only about an hour-and-a-half north and also has a ski culture that's rapidly becoming world-class. Known for its steeps, Taos challenges expert skiiers with some of the most varied terrain to be found in the continental U.S. Intermediate and beginner skiers can find suitable trails off the top of every lift.
Centrally located
A big benefit you might not realize when looking at Santa Fe homes for sale is that it's a great location. Santa Fe is an hour-and-a-half south of Taos, and about an hour north of Albuquerque, which is a straight shot down I-25. To the west is Valles Caldera National Preserve, and to the east sits the mountains. If there is something you want but can't find in Santa Fe, you're going to be able to find it nearby.
The durable buildings have neutral color schemes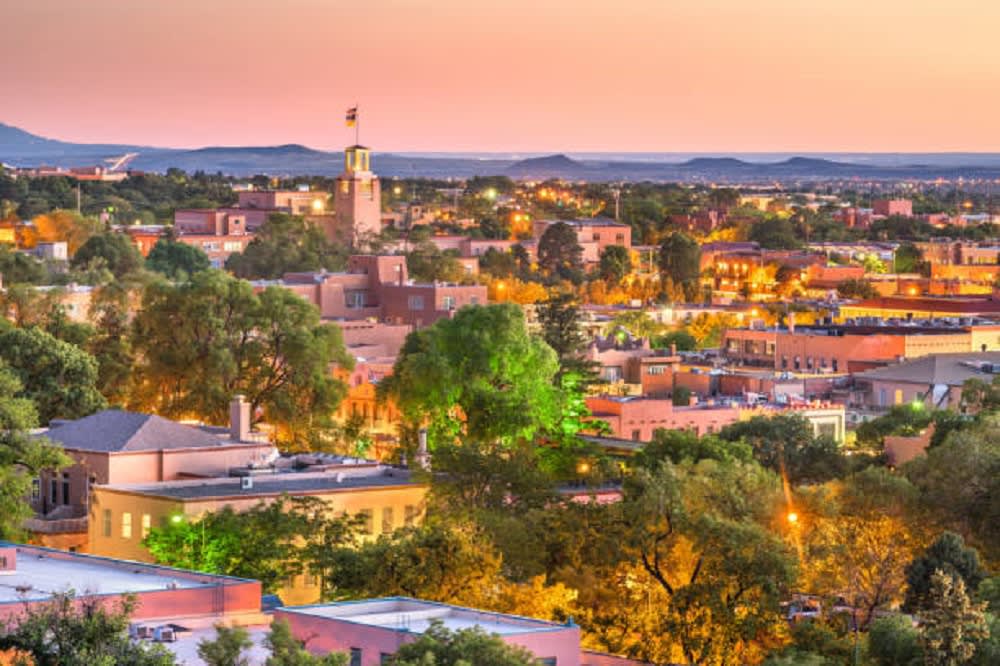 If you have never spent much time in Santa Fe condos or homes, you might be surprised to realize the color scheme is brown.
Very
brown. The land was originally Pueblo land, and they built their homes from a type of sun-dried brick called adobe. When the Spanish settled the area in the 1500s, they kept that same style, which was easy to build and long-lasting.
In the 1920s and 30s, artists settled in Sante Fe and wanted to keep that traditional style. In 1957, the town made it official — adobe-style homes and buildings were essential to the historic district.


If you're looking at Santa Fe homes for sale, you'll find a good mix of more modern building styles and adobe homes. The longer you live here, though, the more you will grow to appreciate the adobe style and practicality.
Tourism is huge in Santa Fe
The local economy has exploded in the last few years, and Santa Fe homes for sale have become an oasis for people fleeing major cities in places like California or New York. However, that doesn't mean that tourism has fallen by the wayside. Approximately two million people visit Santa Fe each year.


People love visiting Santa Fe for the mountains, natural beauty, skiing, and more. The benefits of living in a "tourist-centric town" might not be so obvious, but because of all the visitors, it has a thriving economy with great shops, restaurants, and fun activities, like the interactive art exhibit
Meow Wolf
and the
Sante Fe Opera
.
Love art? Santa Fe is for you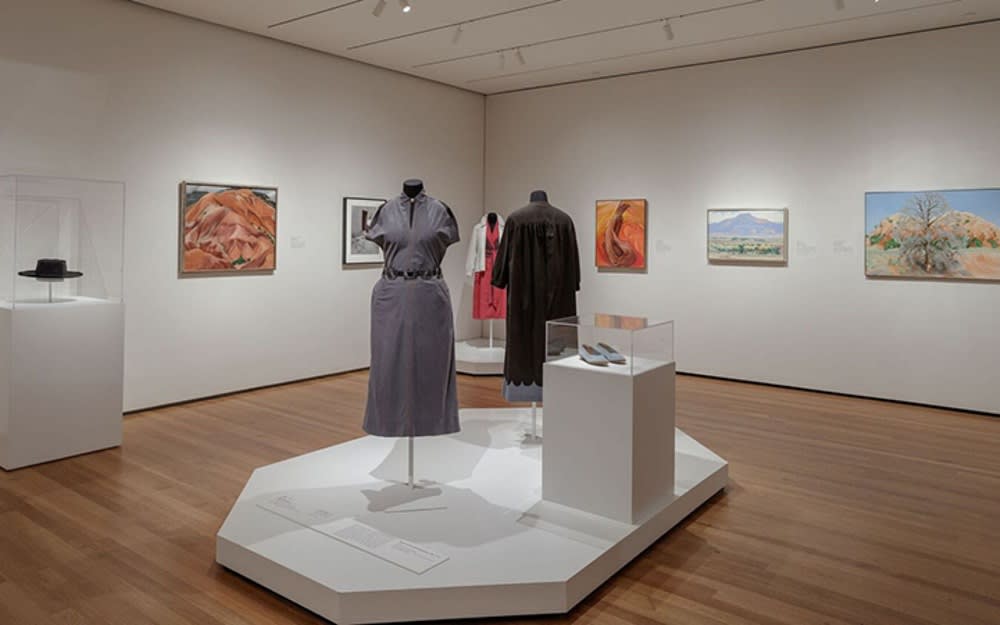 Photo courtesy of Georgia O'Keeffe Museum
Santa Fe is a
huge
mecca for art and artists
. It's actually the third-largest art market in the entire United States and has been an escape for artists for over 100 years now. Santa Fe homes are often filled with gorgeous art from local residents.
Even if you don't make art, enjoying art may become your passion living here. There are dozens of local galleries, and several major art museums, like the
Georgia O'Keeffe Museum
downtown, which is dedicated to the artist and her work. If you want to dabble in making your own art, don't skip
Ghost Ranch
, which offers
retreats and workshops
to help connect you with your inner artist.
Are you convinced?
Can you see yourself looking at, and even buying, a Santa Fe home for sale? If you're convinced gorgeous Santa Fe is right for you, reach out to top
Santa Fe real estate agents
Ricky Allen and Cathy Griffith today. This real estate duo has extensive experience in the Santa Fe market and can help find you that dream desert home to settle down in and call your own. Whether you're looking at Santa Fe condos to live here part-time or you're ready to find your forever home, Ricky and Cathy can get you there.