If you love horses and the allure of living in an exciting, unique western city, then Santa Fe, New Mexico is the place for you.

Whether it's horseback riding on scenic trails, watching horse jumping at HIPICO Santa Fe, or catching all the thrilling action at Rodeo de Santa Fe, the capital city of New Mexico is an equestrian's paradise.

Not only is Santa Fe known for its many equestrian activities, it's also possible to buy homes for sale in Santa Fe with facilities for keeping horses.

Horse culture is part of Santa Fe's diverse cultural tapestry, which is why it's been dubbed "The City Different." Santa Fe draws tourists from all over the world to enjoy its southwestern charm and attractions, which include a thriving arts scene.

According to Realtor.com, the median listing price for Santa Fe houses for sale was $499,000 in July 2021 - an increase of 8.5% year-over-year. Despite rising prices, Santa Fe is still relatively affordable compared to big cities elsewhere in the West.

Like many markets across the country, Santa Fe is currently a seller's market. Since the start of the COVID-19 pandemic, remote workers have flocked to Santa Fe because of the availability of spacious homes, the city's laid-back lifestyle, its charming adobe buildings, and its proximity to some of the most breathtaking scenery anywhere.

Santa Fe's allure is particularly strong for young professionals, families, and retirees who love horses. Whether you love riding horses or watching these majestic animals compete, Santa Fe has something for all equestrians.

There are many horse properties available among Santa Fe's homes for sale, ranging from quaint adobe homes to estates with large acreage and the latest in equestrian amenities. You can find these southwestern-style ranches on the outskirts of town and in the surrounding hills.

If you are unable to keep horses at your home, there are many outstanding boarding facilities and stables in the area. Many of these businesses also offer horse training, as well as riding and jumping lessons for children and adults.

To find the perfect Santa Fe property, hire an experienced real estate agent who knows the city's neighborhoods and is well-versed in the horse culture of Santa Fe.

Here's a sampling of why equestrians love Santa Fe:


Riding Opportunities
There's nothing better for horse lovers than to take a ride on the beautiful trails through the brush-covered hills outside of Santa Fe, and there are several options:
Vision Quest Horseback Rides
Vision Quest Horseback Rides is Native American-owned and operated. It's located just 20 minutes north of Santa Fe Plaza and offers rides for all, from beginners to experienced riders. Rides range from one hour on up, and Vision Quest also offers western riding lessons. The sunset rides are among Vision Quest's most popular offerings.

Customers rave about tour guide Joaquin, who is of Comanche descent and has been a professional horseman and stuntman/actor for over three decades.
Goose Downs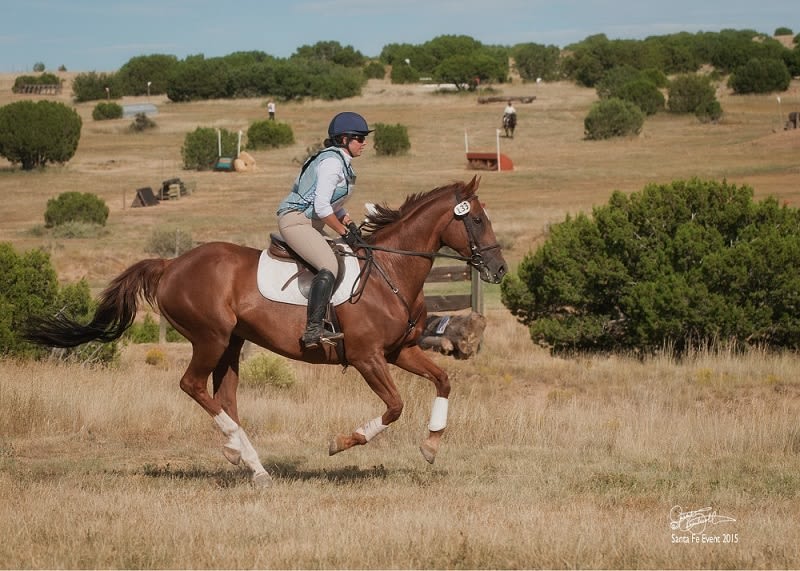 Credit: Goose Downs Farm

Known as the premier 3-day Eventing Center in the Southwest, Goose Downs Farm offers fantastic opportunities for cross country and dressage. Located on 300 gorgeous acres, this farm was specifically designed for eventing, making it the perfect place to work on your horsemanship skills; there are also regular Pony Club competitions for young equestrians.
Broken Saddle Riding Co.
Broken Saddle Riding Co. is located southwest of Santa Fe in the historic mining town of Los Cerrillos. It offers rides year-round through the awe-inspiring Cerrillos Hills State Park, which features desert, forest, and canyon landscapes. Broken Saddle Riding Co. is proud of its stock of registered Missouri Foxtrotters and Tennessee Walkers.

Many types of rides are available, from morning rides to sunset/moonlight rides. Rides can differ according to the season.
Santa Fe Western Adventures
Santa Fe Western Adventures is located on a private ranch between Santa Fe and Los Cerrillos. Established in 1954 and still family-owned, Santa Fe Western Adventures is best-known for offering rides along the Turquoise Trail. Its signature offering is its sunset ride, which includes visiting Lone Butte Mountain and taking in an unobstructed view of the sun dipping below the desert vista. This two-hour ride is for experienced riders only.
Equestrian-Friendly Living
Eldorado
If you want to own a home that's conveniently close to your horse, Eldorado might just be the perfect place for you to call home. This development of homes is built around green space and walking trails, and even has its own stables! You'll love taking scenic walks around the stable grounds, and you can rest assured that the horses are well cared for.
Las Campanas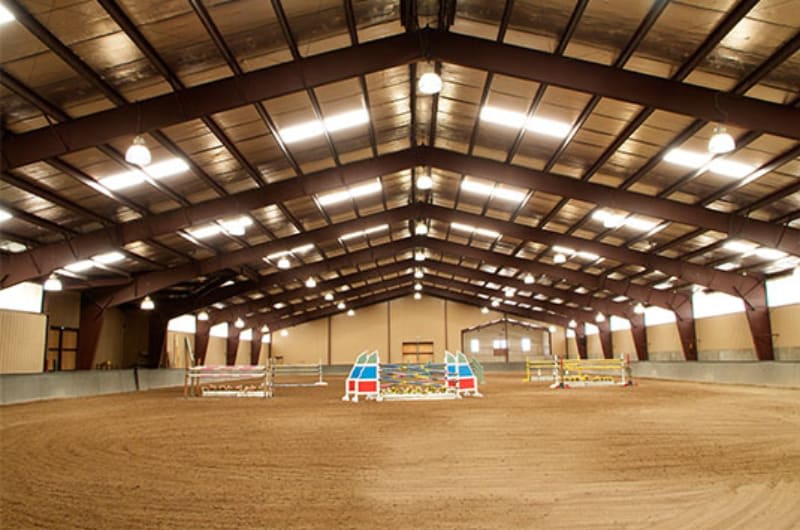 Credit: Las Campanas Equestrian Center

Are you an avid golfer in addition to an equestrian, or simply looking for the best in luxury living? If so, you may want to consider Las Campanas. This premier gated community is built around two Jack Nicklaus Signature golf courses and features a spa, pools, tennis courts, a clubhouse, and a fitness center. But of course, the centerpiece is the gorgeous, world-class Equestrian Center. You'll love the indoor riding hall and outdoor jumping arena, not to mention the regulation-size dressage court. The professional staff at Las Campanas are well-versed in all types of riding, including English, Western, dressage, jumping, and general horsemanship. Of course, you are welcome to board your own horse here, and rest assured that the staff will provide exceptional service, care, and attention to each animal. Las Campanas is the perfect option for luxury living with an equestrian focus.
The Horse Shelter
Equestrians and horse lovers can rest assured that when moving to Santa Fe, they are living in a place that cares deeply for horses. The Horse Shelter is known for its horse rescue efforts, and locals are welcome to volunteer with various horsemanship tasks as the animals are rehabilitated and treated. This is also a fantastic place from which to adopt a horse; regular fundraisers and events are held at the Horse Shelter to ensure all horses are well cared for.
Rodeo Excursions
Rodeo de Santa Fe
The Rodeo de Santa Fe describes itself as a "big-time rodeo, with a small-town feeling." Normally held in June, Rodeo de Santa Fe has changed its dates for 2021 only and will be held from Sept. 15-18.

The Rodeo de Santa Fe has been a local institution since 1949 and has grown into one of the top 60 Professional Rodeo Cowboys Association (PRCA) rodeos in the country. It brings nearly 500 contestants to town annually. Besides the thrilling action in the arena, there are youth events and a carnival midway.
Major Equestrian Events
HIPICO Santa Fe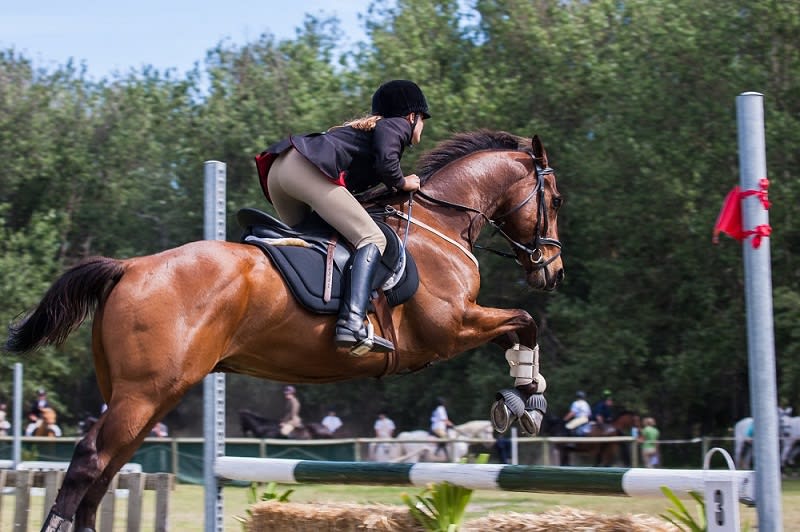 HIPICO Santa Fe is a major equestrian event center located on the west side of the city, not far from the airport, and is a relatively new institution in the Southwest's horse show circuit.

HIPICO Santa Fe is busy year-round with events that include some of the world's top equestrian competitions, polo games, and horsemanship clinics.

Unfortunately, HIPICO Santa Fe had to cancel its 2021 Santa Fe Summer Series A-rated jumper competition, due to pandemic-related uncertainties on large-scale events in New Mexico.

Despite the Summer Series cancelation, HIPICO Santa Fe will continue to hold many equestrian and non-equestrian events during the rest of the year.

HIPICO Santa Fe also is home to the New Mexico Center for Therapeutic Riding, a nonprofit organization that uses equine activities to better the lives of children and adults with special needs.

HIPICO Santa Fe keeps things local, offering local farm-to-table fare from food trucks as well as handcrafted wine and beer. The HIPICO Market Place offers equine-themed merchandise that includes art and jewelry.
Our team has plenty of experience with the horse world; Ricky Allen owns horses kept at his on-site barn, and Cathy Griffith's daughter is an avid rider. We understand how important horses are to your lifestyle! For the best experience in buying and selling Santa Fe real estate and finding your equestrian property, contact the team at Ricky & Cathy for assistance.