Real estate selection
Santa Fe has so many options when it comes to real estate. When retiring, many look for a place to settle down and enjoy their life, and the selection of homes available gives residents the opportunity to do just that. You can truly find the home of your dreams within the gorgeous landscape of Santa Fe.
There are a lot of architectural styles you will find here, such as Pueblo, contemporary, and Spanish. In the image above, you can see an example of a
home for sale
that has North New Mexico, Pueblo, and contemporary influences, which is currently on the market through Ricky Allen and Cathy Giffith Real Estate. It has 5 bedrooms, 4 full bathrooms, 2 half bathrooms, and lots of other fantastic amenities. This is just one example of what a luxury home in Santa Fe can look like, and there are so many others out there. With so many options to explore and choose from, you're sure to find one that has all of the amenities that best suit all of your wants and needs for retirement. The beautiful homes and styles of architecture that Santa Fe has to offer are just one of the main reasons why retirees love this city so much.
Peacefulness
Retirement is a time to take it easy and enjoy all that life has to offer. Santa Fe's calm and peaceful environment makes it the perfect place to do so, which is another reason why retirees love its real estate. Santa Fe can be described as a small city, meaning that there is a lot to do, but at a slower pace. There is so much green space here to enjoy, with natural beauty being one of the main contributing factors to its well-known, lovely atmosphere.

There are over 1.5 million acres of forests within Santa Fe to discover. With so much nature to take in, it's the perfect place to go for walks or enjoy other outdoor activities. It can easily be described as picturesque, where you can see beautiful mountain views, plenty of forests, and stunning sunsets. Retirees love that they can see this gorgeous scenery every day in the city they call home. Being a small city, Santa Fe isn't overcrowded, so you'll be able to have your own space with relatively low levels of noise. Another contributing factor to its tranquility and lovely atmosphere is its climate. Santa Fe is well-known for being sunny most of the year, and they don't get a lot of rain. In fact, they get almost 300 days of sun on average every year! Because of the mountains, Santa Fe is also almost never humid in the summers. Here, you can experience the beauty of all four seasons with very few extremes. Everything about Santa Fe's locale makes it an ideal place to relax and find peace.
Things to do
Credit: Ski Santa Fe
Another reason why retirees love Santa Fe and its real estate is because of how much there is to do. One of the main things Santa Fe is known for is its fantastic arts scene. As a whole, the city has over 250 art galleries that you can explore, making it an art lover's paradise. Beyond visual art, another place you can visit is the
Santa Fe Opera
. New Mexico is famous for opera, and Santa Fe does not disappoint! You're sure to enjoy a fantastic show and their delicious buffet while you're there. Santa Fe is also home to plenty of restaurants that you'll love. Some local favorites include
Sazon
, an upscale Mexican restaurant, and
Sassella
, a fine dining Italian spot. Those who love shopping will find that there are so many places to shop 'til you drop. Some of the most popular places to shop include The Plaza, the Shops on Lincoln Avenue, Galisteo Street, and Water Street.
Enjoying fun outdoor activities is another major form of leisure in Santa Fe. Pretty much any outdoor activity you can think of, Santa Fe has it! Discover one of the 170 miles worth of trails to go bike riding or take your dog on a walk. One of the most popular places to visit is the
Santa Fe National Forest
. Enjoy fishing, go whitewater rafting, and even spot some wildlife while hiking through it. Skiing is another popular activity to do in the area. In fact,
Ski Santa Fe
has over 86 ski slopes to try out. So, if you're looking to stay active while in retirement, Santa Fe is the perfect place to do it. With so many different things to do, retirees love always having something to enjoy while living in this beautiful city.
People and community
Another reason why Santa Fe real estate is so loved by retirees is because of the people that live here, as well as the community at large. While housing itself and having fun things to do are both important, liking the people you're surrounded by is another important factor for people when deciding where they want to retire.
Santa Fe residents are known to be very friendly and neighborly. Around 20% of the population are retirees, which is really a testament to how well-loved and wonderful Santa Fe is for retiring and how much it has to offer. This also means that retirees have a lot of other people they can relate to in their own city, which is ideal for socializing and making new friends. With such friendly people who care about their neighbors comes a lot of annual community events to look forward to throughout the year. Such events include the Souper Bowl, the Santa Fe Bandstand Music Festival, the Santa Fe Wine Festival, and the Canyon Road Spring Art Festival.
Another wonderful thing about Santa Fe is the community services available, which include everything from the
Santa Fe Public Library
, to senior services, to youth and family services. At the library, residents can rent out books, attend exciting events, or take classes to learn something new. Retirees love that Santa Fe's residents and community are so supportive in every aspect.
Health opportunities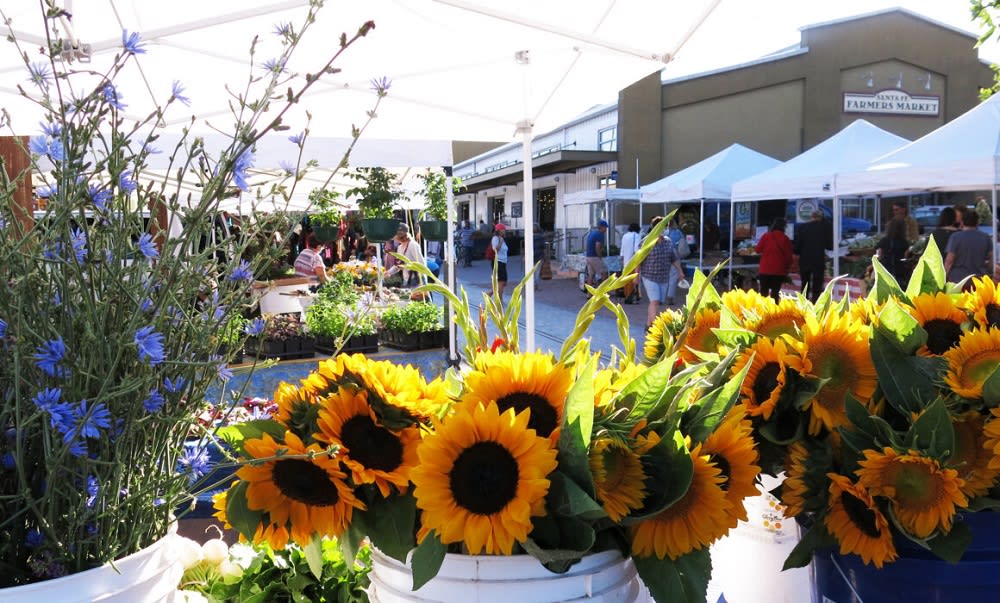 Credit: Santa Fe Farmers' Market
Santa Fe is widely considered to be a healthy city to live in. AARP even rated Santa Fe as one of the healthiest cities to live in within the United States. They have great healthcare, including standard healthcare as well as many options for holistic healthcare. They even have their own
healthcare network
, where people can look for the exact services they need. This includes services relating to counseling, care coordination, dentistry, and even in-home care.
It's easy to take care of your overall health in Santa Fe considering how easy it is to go outside and exercise, as well as easy access to fresh and healthy food at their year-round
farmers' market
. Operating since the 1960s, the Santa Fe Farmers' Market has over 100 different vendors where you can find locally-grown fruits, vegetables, and other products. It's open every Saturday of the year. Santa Fe provides so many opportunities to stay healthy all year round, which is just another reason why people love to retire there.
Moving to Santa Fe?
Santa Fe is a wonderful place to live with some beautiful real estate. If you're looking for Santa Fe homes for sale, be sure to contact the experienced
Santa Fe realtors
at Ricky Allen & Cathy Griffith Real Estate. They can help you find your dream home to best enjoy your retirement.